About Arista
Arista Winery was founded by the McWilliams family in 2002 with a mission to create the most elegant expression of Russian River Valley Pinot Noir. We are committed to sustainable farming practices and sustainable business practices. We work closely with local growers who share our dedication to sustainability in their vineyards. We do not attempt to manipulate our vineyard sites but instead strive to preserve each vineyard's natural qualities.
We believe that wines made in the vineyard are well-behaved in the cellar. We coax them along with minimal intervention and gentle handling. Arista's wines have deep, rich flavors that reflect the unique sites from which they are sourced. Produced in small lots of several barrels, the wines are deliciously balanced with fruit, tannins, acidity and oak in harmonious proportion.
In addition to our wines, we pride ourselves on having created a true destination experience for our visitors. A breathtaking setting of Japanese water gardens, mountain and vineyard vistas, combined with an inviting tasting room, offers guests a welcoming environment that encourages picnic lunches and leisurely days spent on the estate.
McWilliams Family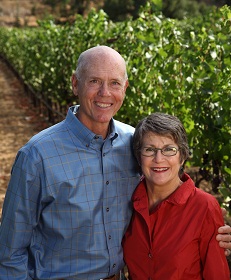 Al and Janis McWilliams
Since their first visit to California's wine country, the McWilliams family of Texarkana, Texas, has dreamed of a future here in Sonoma County. In 1996, Al McWilliams - an orthodontist - took the first step in making their dream a reality.
Joining his brother-in-law, John Copeland, the two purchased a family vineyard estate, Pine Mountain Vineyards in Cloverdale. Then in 2004, Al and his wife, Janis Copeland McWilliams, acquired 36 acres of prime agricultural benchland on scenic Westside Road in Healdsburg. The Russian River Valley will be the home of Arista Winery and its estate Pinot Noir Vineyards, as well as a residence for the McWilliams family. The inaugural release of our 2009 Two Birds Estate Vineyard Pinot Noir was released in the Fall of 2011.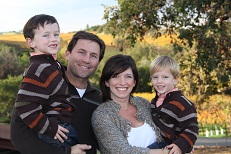 Mark and Jennifer McWilliams
Mark McWilliams, born and raised in Texarkana, Texas, is the son of Al and Janis McWilliams. He has been involved in Arista winery and vineyard operations of Sonoma County for the past 10 years.
After graduating from the University of Texas - Austin with a degree in Corporate Communications, Mark took his first job out of college working for Kendall Jackson Wine Estates. What started as a temporary summer job developed into a passion as Mark enrolled in UC Davis Wine and Viticulture courses, tasting groups, and annoyed his winemaker friends with endless questions. During his time with Kendall Jackson, Mark held various positions encompassing vineyard operations, harvest logistics, and cellar work. Following his time at Kendall-Jackson, Mark continued his passion for wine and pursuit of industry knowledge by working as a wine consultant for a wine and spirits distributor based in Dallas, Texas.
In the fall of 2003 Mark married Jennifer Habecker, a native of Dallas. Shortly thereafter, Mark and Jennifer returned to Healdsburg, California to be fully involved with Arista. Mark manages the day to day operations at the winery as well as assists with winemaking duties. Mark and Jennifer live in Healdsburg, California with their sons Jake and Pierce and their Maltese "Lucy". Jennifer is due with their third child, a girl, in early 2013.

Ben and Tatiana McWilliams
After graduating from the University of Colorado at Boulder in 2003 with a degree in Business Administration, Ben volunteered for the Peace Corps and spent the next two years living and working in rural Honduras. The majority of his time was spent helping local coffee farmers implement sustainable coffee growing techniques as a means to add value to their products. During these two years Ben was able to hone his agricultural skills and see first-hand the power and importance of organic farming techniques which are employed in our estate vineyard.
After spending additional time in South America, Ben and his wife Tatiana chose to return to Sonoma County to establish roots of their own. Ben is responsible for general business operations as well as managing the estate. Tatiana spent several years working at the winery, and continues to be an integral decision maker. She now works full time at Sotheby's International Realty in Healdsburg.
Lucy & Coco
Without doubt the most well known of the Arista family is Lucy the Maltese and Coco the Lab. Lucy is often seen sunbathing on the front porch, and Coco is notorious for persuading unsuspecting picnickers to hand over the goods. They have been published in several winery dog books that are available for purchase in the tasting room. They will most likely be there to greet you the next time you stop by!